'Who Are We'?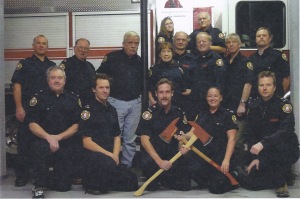 The Mayne Island Volunteer Firefighter's Association is one of the entities which make up the Fire Service on Mayne Island. It's membership includes every active firefighter and auxiliary in the Fire Department. The Association was formed in 1994 and is a registered society in the province of British Columbia and it is also a registered charitable organization under the charities directorate of the Canada Revenue Agency. One of the principal reasons for our Incorporation was to fundraise to upgrade and maintain the old schoolhouse (our recreation hall) which the community gifted to the firefighters in 1974.
Some of the events that we organize for the community include Mothers Day, Oktoberfest and Hallowe'en. We are also involved with community fundraisers such as the hot dog sale on family day, the Early Childhood Society's Chili Cook-off, the school water day celebrations and we help with the Lion's Club Santa Ship.
The MIVFFA is funded in four ways: first by voluntary donations paid by the members, second by fundraising activities such as the red boot drive at hallowe'en, sales of breakfasts at Mother's Day, hot dog and tee shirt sales and Oktoberfest, third by your 1% donations to the Firefighters at Tru Value and fourth by you charitable donations.
The MIVFFA has five primary responsibilities: first, to build esprit de corps and develop the kind of relationships necessary in Firefighting. Second, to educate and raise the communities awareness of fire safety issues. Third, to purchase fire safety equipment and support education in support of our fire department. Fourth, to donate to charitable organizations such as the Burn Unit, Heart and Stroke Foundation, Terry Fox Foundation and the Meredyth James Fund, and finally, to offer Benevolent services to our firefighters' current and past, within our community on Mayne and beyond.